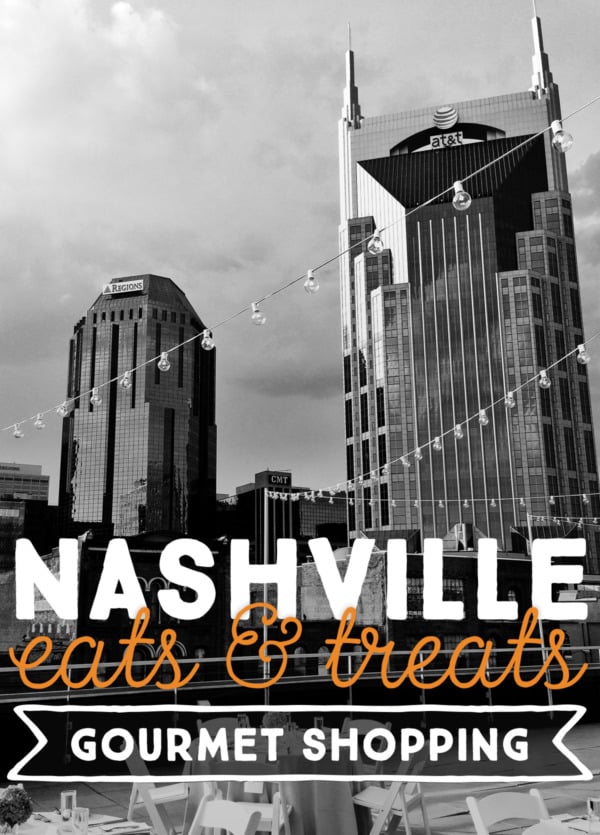 Food makes the best gift (in my humble opinion), because the recipient can eat it and enjoy it and be done with it, and you're not contributing to further clutter in their lives.
With that in mind, I thought now would be the perfect time to highlight some of my favorite Nashville shops to find gourmet gifts for foodies, food fans, and basically anyone who likes to eat.
Whether you're local shopping for out of town relatives, or just visiting and wanting to take a delicious piece of Nashville home with you, these shops have you covered for everything from candy to condiments to cocktail mixers and more.
Goo Goo Shop
Got a chocolate lover on your list? The Goo Goo Shop has you covered. Grab a premium Goo Goo (jumbo versions of their classic candies that are only available in the shop), plus a matching "What the Cluster" t-shirt and a cute luggage tag, or any number of their other cute merchandise items. They also sell vintage gift tins of classic Goo Goos, as well as bags of Lil' Goos (mini versions that are dangerous to have on hand).
→ Goo Goo Shop / googoo.com / 116 3rd Ave S, Nashville, TN 37201
Olive & Sinclair
For a gourmet chocolate experience, Olive & Sinclair in East Nashville is a perfect place to grab some Nashville-made bean to bar chocolate. Our favorite bar is a toss up between the Salt & Pepper and the Buttermilk White (which would even convert white chocolate haters). Also, don't miss the bourbon brittle or duck fat caramels either!
→ Olive & Sinclair / oliveandsinclair.com / 1628 Fatherland St, Nashville, TN 37206
Seersucker Candy Co.
From the same chocolate-loving folks that brought you Olive & Sinclair, Seersucker focuses more on truffles and other candies. You can pick up many of the products at the O&S store in East Nashville, but the dedicated shop in Franklin has a lovely selection of artisan truffles, and also freshly roasted coffee and other gifts. The Cherry Bombs (pickled cherry cordials) are seriously the bomb.
→ Seersucker Candy Co. / seersuckercandyco.com / 506 W Main St, Franklin, TN 37064
Lazzaroli
We love Tom's fresh pastas, but this Italian specialty shop also carries some great gourmet gifts, including smoked salt, bourbon-barrel aged soy sauce, amaretti cookies, Italian fruit preserves, torrone candy, and more. Closed Sunday/Monday.
→ Lazzaroli Pasta / lazzaroli.com / 1314 5th Ave N #100, Nashville, TN 37208